I bought a lot of mango recently, so I need to come up with some more ways of eating them. I found out I have a bag of Agar-agar powder at home so I decided to make fruit jello for mother's day dessert. This tastes much better than store bought jello, very fruity!!! Most importantly you can adjust the sugar according to your own preferences. The ratio of agar-agar powder to the water/juice/puree is 1gram : 120 gram. You can use other kind of juice, fruit to make this.
Mango layer
Mango puree 260g
Water 220g
Sugar 2 tbsps
Agar-agar powder 4g
Strawberry layer
Strawberry puree 120g
water 240g
sugar 4tbsp
Agar-agar powder 3g
Coconut layer
Coconut milk 200g
Water 160g
Sugar 4tbsp
Agar-agar powder 3g
Add agar-agar powder and sugar to the cold water and bring it to boil, while cooking stir the mixture constantly.
Turn the heat off and let it cool down a bit to warm temperature.
Add the mixture to the mango puree and mix well.
Pour it to a container (I used a square glass one)
Leave it in the refrigerator for 15-20 minutes.
Repeat the above steps for strawberry layer, then pour it over the mango layer. leave it in the refrigerator for 15 minutes.
Repeat the same for coconut layer.
I added some Mango chunks to the mango layer, but you don't have too. I just want to use more mango.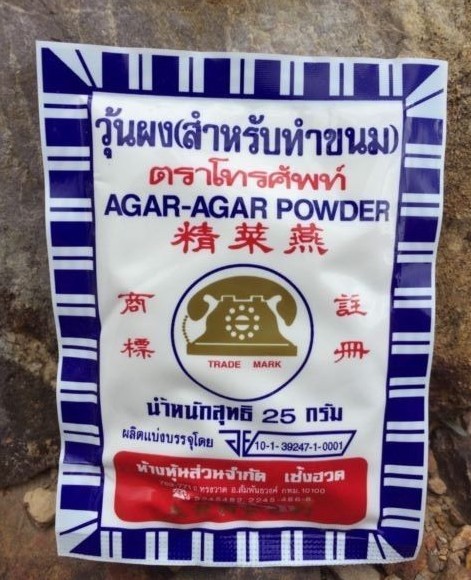 芒果層
芒果泥260 克
水220克
糖 2 湯匙
燕菜精4克
草莓層
草莓泥120克
水240克
糖4湯匙
燕菜精3克
椰奶層
椰奶200克
水 160 克
糖4湯匙
燕菜精3克
加入燕菜精和糖到冷水中開火煮開, 同時要不斷攪伴。
煮開后把火關掉, 讓它冷卻一點。
將混合物加入芒果泥中, 攪拌均勻。
把它倒到一個容器裡 (我用了一個方形的玻璃容器)
把它放在冰箱裡15-20分鐘。
草莓層也是重複上述步驟, 做好晾涼後將其倒在芒果層上。把它放在冰箱裡15分鐘。
椰奶層重複同樣的步驟。
我在芒果層增加了一些芒果塊, 但你也可以不放。我只想用多一點芒果。